Custom Marching Band Horn Line Body Visuals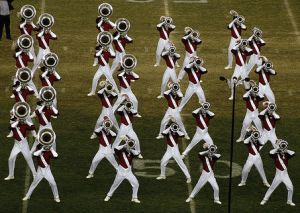 Horn line visuals are a great way to add depth to your drill and raise your GE/Visuals scores.
To be successful in today's marching arts, you need a complete
drill design
and visual package that gives your band the edge in the Visual and GE captions over the competition. Add custom horn line body visuals to complete your full show design package! This will be a great addition to your marching band show.
Horn Line Marching Band Visuals From RMS
With RMS Visual Designs horn line visuals service, you can count on the following:
Teachable choreography written at your band's difficulty level
Detailed written instruction sheet
High quality DVD or video file with counts and measure numbers displayed
Affordable pricing starting at $710
Visuals that are carefully coordinated with the drill and music
Professionally designed custom horn line body visuals can be added to your custom drill design package. The custom horn line visuals will be designed by Performer's Academy. Performer's Academy has designed custom horn line visuals for several of Robert's customers since 2012. Robert highly recommends his service as being very high quality, on-time and professional.
Horn Line Body Visuals By Performer's Academy
Since 1996, Performer's Academy has been producing and designing award winning shows. Performer's Academy has designed shows for numerous indoor color guard state champions, Texas state marching finalists and WGI regional champions. Performer's Academy is a sustaining member of the Texas Music Educators Association and the Texas Bandmasters Association.
For more information on the horn line visuals we can provide, contact RMS Visual Designs today. For a price quote fill out our online form and get in contact with Robert Strunks today.
The Importance Of Custom Horn Line Visuals
Robert and Performer's Academy will provide your band with teachable choreography written specifically for your band's size and difficulty level. Horn line visuals, when properly written, add another element to your shows visual design. A movement that is precisely executed will add depth to your show and give you the edge at competitions. With Performer's Academy's clean and teachable horn line visuals, you will be able to take your band to the next level.
Get Your Free Horn Line Visual Design Quote
Fill out the quote form at the top of this page for a free quote! And if you would like to learn more about our visual design services, you can find all the information for
custom marching band drill design
,
color guard choreography
and
marching band shows for small bands
on this website, or just call
(800) 605-1608
.